The mine closed in 1982 due to low copper prices ($0.60 at the time). Fragmented ownership since the 1980s prevented development of the project. Nicola recently succeeded in consolidating ownership in November 2015 and has actively conducted exploration since.
Nicola's New Craigmont project is based on solid historical realities and exceptional exploration upside:
The historically mined skarn mineralization is driven from a porphyritic source
The mine closed leaving behind 80-90 million tonnes of wastepile material that the Company is currently drilling with the aim of defining a resource estimate;
The J.F. Bristow report dated July 22, 1985, Craigmont mine engineer at the time, details a non NI43-101 compliant 0 million tonne halo grading greater than 0.4% surrounding the high-grade underground ore body to the west of the historic pit that the Company is currently exploring;
F. Bristow on October 30, 1985 to Craigmont Mines Ltd. reported a zone known as Body No. 3 containing a historic estimate of 1,290,000 tons (1,170,268 metric tonnes) of copper grading 1.53% copper.
The Company has been exploring the property over the past three years; work completed to date includes a x,xxx meter drilling program, induced polarization ground surveys in addition to property scale mapping and sampling. Key zones of interest have been defined, including:
Craigmont Central, which includes the Mineralized Halo; and the historic Wastepiles
Craigmont West, which is a fault off-set extension of the historic Craigmont Mine;
Northwest Promontory and East Promontory Porphyry Targets
Marb Zone Porphyry Target
Recent drilling results include the following:
Craigmont Central from hole CC-18-02

150 Metres grading 0.54% Cu, including;

6 Metres grading 1.05% Cu
7 Metres grading 2.1% Cu
5 Metres grading 9.6% Cu and 1.5 Metres grading 9.8% Cu
Craigmont West

NC-2018-03: 100.6m grading 1.3% Cu
NC-2018-01: 71.4m @ 0.6% Cu
DDH-THU-002: 85.6m @ 1.1% Cu
During Q4 2018 and Q1 2019 the Company will complete an extensive RC Drilling program on the wastepiles with the intention of providing a resource estimate to further augment the diamond drilling program.   The Company will also provide 2018 Exploration summaries for exploration in the Craigmont Central, Craigmont West, Northwest and East Promontory and the Marb Zone.
2018 IS EXPECTED TO BE A BREAKTHOUGH YEAR ON EXPLORATION
Boundary outline of Mineral Claims Tenure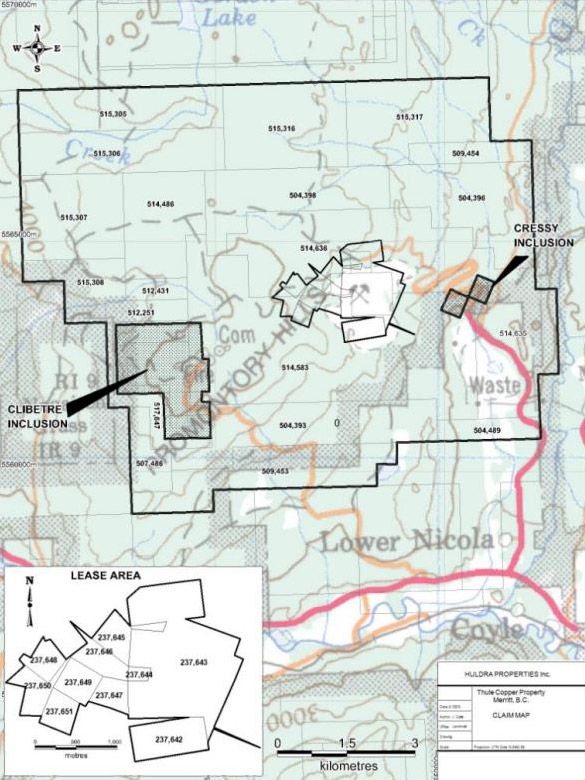 The property covers 8272 hectares in the Southern extents of the Guichon Batholith.
Location of Mining Leases and Claims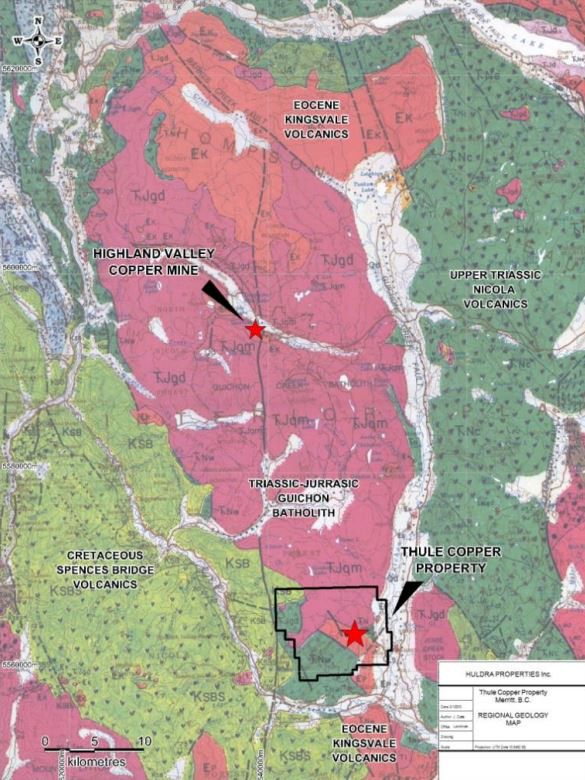 Centrally located 10 km from Merritt, BC at historical workings of 34 million tonnes of high grade copper ore mined from open pit and underground operations from 1962-1982.
2012 Airborne Survey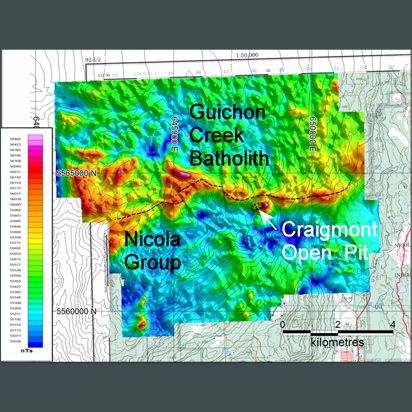 Total Magnetic Field Intensity colour contour map – linear distribution. Most important is the dashed line shows geographically mapped contact between Nicola Group and Guichon Creek with the Craigmont Copper-Iron mine located in the central part of Thule property claim holdings.
2016 Target Zones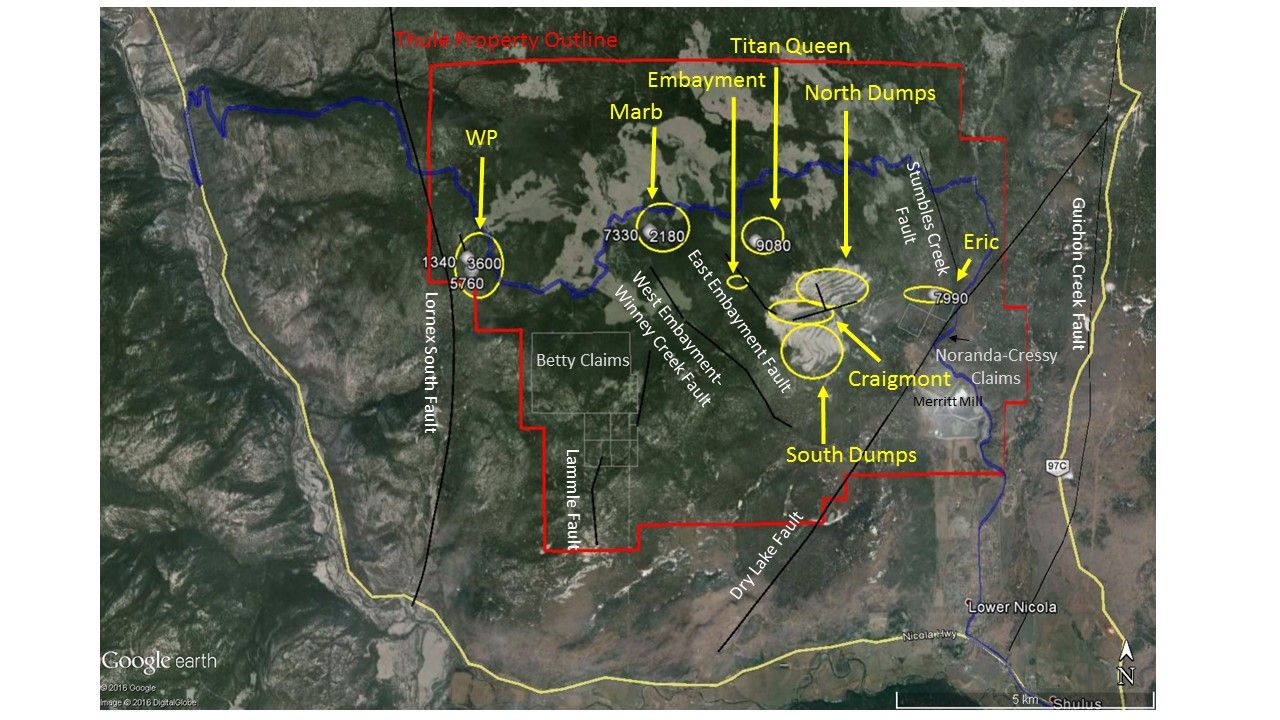 The Thule Project consists of several historic zones with known copper mineralization. The 2016 exploration program will target the Embayment Block, the WP, Titan Queen, Eric and Marb zones. All of these zones occur proximal to the Nicola Group-Guichon Batholith contact and to prominent fault trends.