Nicola Mining Announces Positive Induced Polarization Survey Results
TSX.V: NIM
NEWS RELEASE
VANCOUVER, B.C. July 24, 2017 – Nicola Mining Inc. (the "Company") is pleased to announce results of an Induced Polarization (IP) geophysical survey over Promontory Hill, an area of high interest on the Company's wholly-owned New Craigmont Project.  The New Craigmont Project, which the Company had previously referred to as Thule Copper is the site of the historic Craigmont Copper Mine, located near Merritt, BC and adjacent to Tech Resources Limited's Highland Valley Copper.
In November of 2016 a review of historical geophysics on the Promontory Hill, was initiated by Nicola Mining Inc. and conducted by Dr. Jules Lajoie. Ph.D. Geophysics. The review resulted in a request for digital data, which was subsequently provided by Frontier Geosciences Inc. (Frontier) on its 2005 3-Dimensional (3D) IP survey it had conducted over Promontory Hill in 2005 (Figure 1). Given Promontory Hill's potential of mineralization and the significant variance in conductivity and chargeability between host and intrusive rocks the variance utilized in the original 2005 3D model was expanded (Figure 2).
| | |
| --- | --- |
| Figure 1: Original 2005 | Figure 2: Expanded Variance |
The impact of Frontier expanding the variance on its original survey provided significant and exciting clarity on the section and prompted the Company to engage Scott Geophysics Ltd. to conduct a 2-Dimensional (2D) IP survey. The goal of the survey was to confirm results of the updated 3D model and to further expand the geophysical coverage over the Promontory Hill target.
Three lines, for a total survey length of eleven kilometers were analyzed; two lines were East-West and one North-South (Figure 3).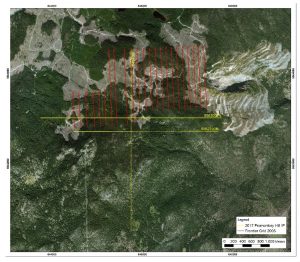 Figure 3: Location of 2005 Frontier Geosciences Inc. 3-D Induced Polarization grid
(yellow) and 2017 ScottGeophysics LTD. 2-D Induced Polar
Results of the survey confirmed the presence of an elevated chargeable anomaly identified in the updated 2005 model (Figures 4 and 5). It is noted that due to the nature of 3-D averaging the elevated chargeable area exhibits a different shape and size than the 2-D model defines.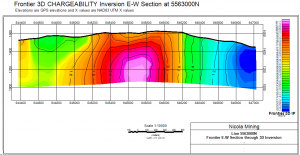 Figure 4: E-W vertical section through Frontier's 2017 3D chargeability inversionmodel at
5563000N, looking north. This is what was to be verified with standard 2D IP surveying.

Figure 5: Line 5563000N blow up of chargeability field pseudosection above and inversion section below.
The program further defined a highly chargeable, highly resistive, low magnetite response over an area another area directly south of the 2005 updated model anomaly (Figure 6). This new anomaly corresponds with a magnetic low defined in the 2012 AeroMag survey (Figure 7).
"The geophysical signatures accumulated thus far in the program are suggestive of the higher reaches of a porphyry system, with the Craigmont skarn deposit being the distal expression of that. The weak mag high in the center of the dashed red line mag outline, located just south of station 4600E on Line 5562700N could suggest a more magnetic potassic core. In such systems, the strongest IP highs are commonly due to higher concentrations of pyrite, with the Cu mineralization located elsewhere within more moderate IP. As well magnetite destruction commonly results in lower and quieter magnetics." Jules Lajoie, Ph.D. Geophysist, Technical Report, July 15, 2017.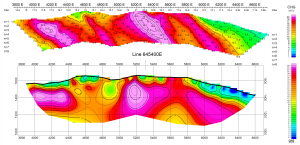 Figure 6: Line 5562700N blow up of chargeability field pseudosection above and inversion section below.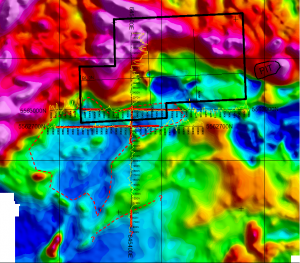 Figure 7: Compilation of geophysical data on aeromag color background. Ground magnetic profiles are shown in yellow with highs to the east for the N-S line and to the north for the E-W lines. Thicker red lines show zones of elevated chargeability.
Follow up lithologic and mineral alteration mapping over the Promontory Hill area conducted by Fionnuala Devine M.Sc. identify a previously unrecognized silica-pyrite alteration corresponding to the low magnetic area, possibly increasing in intensity to the south west.
"Pervasive silica-pyrite alteration occurs within the Nicola Group sedimentary rocks along a northeast-trending trend in the southwestern part of the property. Most intense alteration completely replaces medium- to coarse-grained wackes and conglomerates with clasts completely pyritized". F. Devine, Executive Summary of 2017 Mapping, July 2017
The summary report containing the results of the Promontory Hill IP program can be found posted on www.NicolaMining.com
Nicola Mining Inc. is a junior mining company listed on the TSX Venture Exchange, and has a fully-permitted 200 tonne per day custom mill that recommenced operations in June 2016. Its 100% owned state-of-the-art mill and tailing facility, located near Merritt, British Columbia, is capable of processing both gold and silver mill feed via gravity and floatation processes. The Company has 100% of the Thule Copper property covering 10,084 hectares along the southern end of the Guichon Batholith. In addition, the Company also owns 100% of Treasure Mountain, its high-grade silver property, and a gravel pit, which is located adjacent to its milling operations.
On behalf of the Board of Directors
"Peter Espig"                              
Peter Espig
CEO & Director
For additional information contact:
Peter Espig
Telephone: (778) 385-1213
Email: peter@nicolamining.com
Neither the TSX Venture Exchange nor its Regulation Services Provider (as that term is defined in the policies of the TSX Venture Exchange) accepts responsibility for the adequacy or accuracy of this release.