Nicola Mining Inc. Intersects 1.11% Copper Over 85.92 Metres at the Thule Copper Property in Southern BC
TSX.V: NIM
NEWS RELEASE
VANCOUVER, B.C., September 7, 2016 – Nicola Mining Inc. (TSXV: NIM) (the "Company" or "Nicola") is pleased to report that significant copper mineralization has been intersected on the Thule Copper Property located 14 km northwest of Merritt, British Columbia.
The Thule Copper Property covers 10,084 hectares along the southern end of the Guichon Batholith and is 100% owned by Nicola. The diamond drilling program was designed to test 3 distinct zones on the Thule Copper Property, referred to as Embayment, Titan Queen, and Eric. Total diamond drilling meterage for the 2016 program at the property was 1,084 metres in 5 holes. Copper mineralization was intersected in all 5 holes, highlighted by an intersection of 1.11% copper over 85.92 metres in THU-002, through the Embayment Zone, located approximately 1 km northwest of the past-producing Craigmont Mine.
Results from the drilling program support the Embayment Zone as a fault-offset, westward continuation of the skarn zone that hosts the Craigmont deposit. A follow-up drill program will be designed to determine continuity of mineralization further west along strike and at depth from THU-002.
In addition, drilling at Titan Queen Zone encountered alteration and mineralization features commonly observed in association with porphyry-style copper deposits, including the Highland Valley porphyry complex located 50 km north of Thule Property. Follow-up work will be planned to outline drill targets over a broader area and further test porphyry-style mineralization potential.
Table 1. Significant drill hole intersections from the 2016 Thule Property drilling program.
Drill hole
 
From

(metres)

To

(metres)

Intercept* (metres)
Copper

(%)

Zone
THU-001
 
43.70
45.72
2.00
0.32
Eric
and
77.60
79.00
1.40
0.24
THU-001A
 
112.85
115.00
2.15
0.13
Eric
and
122.00
135.88
13.88
0.17
and
141.78
143.70
1.92
0.37
and
152.28
166.35
14.07
0.15
and
228.20
229.67
1.47
0.11
THU-002
 
300.65
331.08
30.43
0.11
Embayment
and
331.08
417.00
85.92
1.11
including
331.08
343.50
12.42
1.77
including
372.65
386.50
13.85
2.71
including
378.80
380.00
1.20
4.08
including
415.00
417.00
2.00
3.85
THU-003
 
2.40
5.30
2.90
0.55
Titan Queen
and
52.00
54.00
2.00
0.34
THU-004
 
2.44
4.22
1.78
1.30
Titan Queen
* The intersected length of mineralization is reported throughout this release. True widths are not determined as the geometry of the mineralized zone is uncertain.
Table 2. Drill hole location, elevation, azimuth, dip, depth and zones for the 2016 Thule drilling program. Collar positions were determined by differential GPS methods in UTM NAD 83 Zone 10.
Drill hole
Easting

(metres)

Northing

(metres)

Elevation

(metres)

Azimuth

(degrees)

Dip

(degrees)

Depth

(metres)

Zone
THU-001
650546.262
5564066.704
836.00
25
-45
80.47
Eric
THU-001A
650546.519
5564066.829
835.14
25
-45
235.00
Eric
THU-002
646727.031
5564094.081
1463.16
40
-60
448.06
Embayment
THU-003
647022.756
5564993.081
1462.02
60
-55
136.25
Titan Queen
THU-004
647021.694
5564994.269
1462.07
25
-45
163.88
Titan Queen
Peter Espig, Chief Executive Officer of the Company, commented, "We are extremely encouraged with the results from our 2016 Exploration Program on the Thule Copper Property. The 1.11% Cu over 85.92 metres, including 13.83 metres grading 2.71% Cu, highlight the high grade mineralization of the property. Our team is also very excited with key features observed at the Titan Queen Zone, which is more indicative of a porphyry-style copper deposit. It is well known that the historic Craigmont Mine is a prolific skarn, but the source of the mineralization has yet to be confirmed. In addition to the significant results, the project is further augmented because Nicola's Thule Copper Project is already associated with a current mine permit."
Exploration Summary
Three priority target areas were identified from Nicola's compilation of historical data (figure 1.). The 2016 drilling program was designed to obtain preliminary information in order to establish the geological context of previous work and better understand exploration potential.
Eric Zone
The Eric Zone consists of mineralized diorite intrusions and breccia exposed in a 2.1-metre-deep shaft excavated in the 1930's. Prominent north and northwest striking faults cut mineralization. The shaft is located 2.5 km east and along strike of the Craigmont open pit. Previous drilling completed during the 1970's focused on testing magnetic anomalies aligned with the strike of the Craigmont skarn. THU-001 and THU-001A are positioned underneath the shaft where there had been no previous drilling. THU-001 was drilled to a depth of 80.47 metres and intersected a diorite breccia with short intervals of chalcopyrite mineralization. The hole was abandoned before the planned depth due to difficult ground conditions. THU-001A reached its planned depth of 235 metres and encountered chalcopyrite associated with tourmaline, quartz, and brecciated diorite.
Titan Queen Zone
The Titan Queen Zone is exposed by three 20-metre-long trenches spaced approximately 25 metres apart. Excavated in the 1930's, the trenches were the original target of Craigmont Mines Limited in 1957. Irregular zones containing hydrothermal quartz, magnetite, tourmaline, chalcopyrite, and trace bornite with minor supergene copper oxides are exposed in the trenches.
THU-003 and THU-004 both encountered chalcopyrite-mineralized hydrothermal breccia emplaced into propylitically altered, equigranular, fine-grained quartz diorite. The historical drill holes were completed in the 1970's. The drill holes and trenches are located on the southeastern edge of a 400 x 300 metre magnetic high. There is no historical geological mapping or detailed ground geophysical surveys completed over the magnetic anomaly.
Embayment Zone
The Embayment Zone was explored by Craigmont Mines Limited through several surface and underground drill holes in the 1978 and 1985. Chalcopyrite mineralization and associated skarn alteration consisting of magnetite, garnet, actinolite and epidote is equivalent to the western side of the Craigmont skarn zone. Drill hole S-100, which was drilled by Craigmont Mines Limited in 1978, intersected 0.47% copper over 149.36 metres (from historical data and non-compliant with the reporting standards required by National Instrument 43-101 – Standards of Disclosure for Mineral Projects ("NI 43-101")). Christopher James Gold Corp. attempted to drill test the Embayment zone in 2005 but was unable to penetrate the post-mineral rock formation.
The Embayment Zone represents the faulted western continuation of the Craigmont zone (figure 2). The Embayment Zone is translated approximately 300 metres northwest along the northwest-striking Embayment Fault. The Embayment Fault is visible in high-resolution airborne magnetic data acquired in 2012 and confirmed by THU-002, where the Embayment mineralized zone terminates against the fault.
For further details on the Thule Copper Property, see the technical report entitled "TECHNICAL REPORT on the THULE COPPER – IRON PROPERTY, Southern British Columbia, Canada", filed on May 8, 2013 on SEDAR at www.sedar.com.
Sample Preparation and Quality Control
Supervision and organization of the diamond drill program was undertaken by Brian May, P.Geo., a geological consultant for Nicola Mining Inc.
True widths of the drill hole intercepts reported in this press release have not been determined. All drill core was cut on-site and shipped to Actlabs (ISO 17025 Certified) in Kamloops, British Columbia for analysis. Samples were analyzed using an ICP Aqua Regia 38-element (IA3) package and fire assay gold (IA2). Any samples greater than 10,000 ppm copper were tested using over-limit mass spectrometry methods (8-AR ICP-MS). Certified reference standards and rock blanks were placed in the sample stream with a ratio of approximately one sample out of 10. Assay intervals have been calculated with no cut-off value. Drill core sample lengths varied from 0.57 metres to 3.5 metres in length, averaging 1.9 metres. Sample lengths were chosen based on geological variation and recovery within the drill core.
Qualified Person
The scientific and technical content of this press release was reviewed and approved by Mr. Brian May, P.Geo., who is classified as a "Qualified Person" as defined by National Instrument 43-101 – Standards of Disclosure for Mineral Projects.
Nicola Mining Inc. is a junior mining company listed on the TSX Venture Exchange, and has a fully-permitted 200 tonne per day custom mill that recommenced operations in June 2016. Its 100% owned state-of-the-art mill and tailing facility, located near Merritt, British Columbia, is capable of processing both gold and silver mill feed via gravity and floatation processes. The Company has 100% of the Thule Copper property covering 10,084 hectares along the southern end of the Guichon Batholith. In addition, the Company also owns 100% of Treasure Mountain, its high grade silver property, and a gravel pit, which is located adjacent to its milling operations.
On behalf of the Board of Directors
"Peter Espig"

Peter Espig
CEO & Director
For additional information
Contact:               Peter Espig
Phone: (604) 647-0142
Email: peter@nicolamining.com
Neither the TSX Venture Exchange nor its Regulation Services Provider (as that term is defined in the policies of the TSX Venture Exchange) accepts responsibility for the adequacy or accuracy of this release.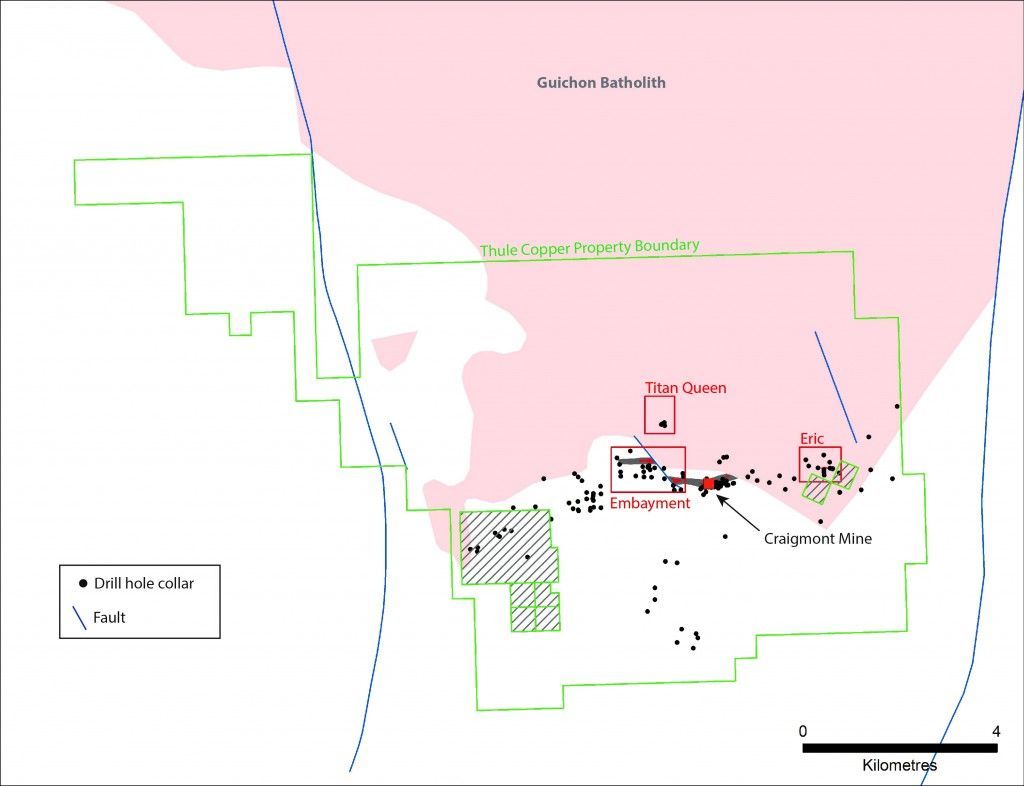 Figure 1. Exploration project areas that were drilled by Nicola Mining Inc. in the 2016 exploration program. A total of 5 drill holes, totaling 1,084 metres, were completed. Internal claims are not part of the Thule property.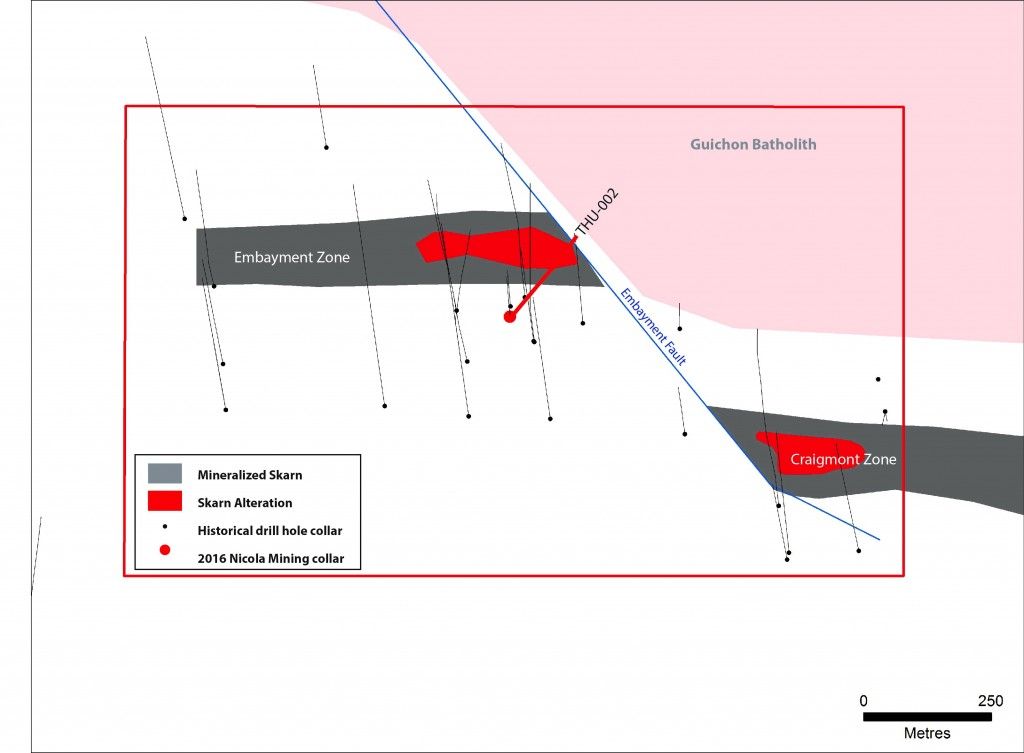 Figure 2. Location of diamond drill hole THU-002 in the Embayment Zone. The Embayment Zone is a fault offset portion of the Craigmont Zone.