Nicola Mining Prepares For 2023 Drilling Exploration At New Craigmont Copper Project
TSX.V: NIM
FSE: HLI
OTCBB: HUSIF

VANCOUVER, BC, May 2, 2023 – Nicola Mining Inc. (the "Company" or "Nicola") is pleased to announce that it has finalized its 2023 diamond drilling exploration planning (the "2023 Program") at its wholly-owned New Craigmont Copper Project ("New Craigmont"), located near Merritt, BC, and 33 km south of Teck Resources Ltd.'s Highland Valley Copper, Canada's largest open pit copper mine.
Drilling is expected to commence mid-May and the Company has engaged Western Exploration Diamond Drilling (Western), for the 2023 program. Western, who is a local drilling company, has successfully completed all diamond drilling at New Craigmont since 2016.
Nicola has hired William Whitty, P.Geo as VP of Exploration who has a strong background in production and exploration geology from Nevada Gold Mines and Freeport McMoran. Will holds over 15 years of international experience specializing in porphyry and skarn deposits and will be an asset for the company's growth strategy.
Nicola is currently working with the University of British Columbia as part of a province wide porphyry vectoring study. Continuing sampling and analytical work are expected to provide additional exploration targets on the New Craigmont property.
The 2023 Program is expected to be pivotal in the Company's copper exploration initiatives. Nicola received a MYAB Permit to conduct exploration activities through to 2027 including diamond drilling and Induce Polarity (IP) geophysical survey. Although New Craigmont is one of the highest grade copper mines in North American history, with an average grade of 1.3% Copper, it remains largely unexplored beyond the boundaries of the historic pit. The lack of exploration can be attributed to low copper prices in the 1980s and a previous ownership group, comprised of several holders, that focused on magnetite production. It was not until November 19, 2015, that Nicola was able to consolidate ownership of New Craigmont into one contiguous claim group.

The 2023 Program will focus on never-before-drilled copper targets

Target 1
Note that Targets 1 and 2 are listed in terms of timing and not priority.
The first four to five drill holes will focus on the untested extensions of the near vertical Craigmont skarn body hosted within Nicola Volcanic and Sedimentary rocks. The target was identified through the integration of historical drill data digitization and 3D modeling paired with interpretations from the 2022 ZTEM Geophysical Survey (See Figure 1.) Target 1 is located east of the historic pit and is the 1st step out program testing the mineralization extension towards the Eric Zone. Eric Zone copper mineralization is hosted within the Diorite border phase of the Guichon Batholith situated along a linear East-West ZTEM anomaly (see Figure 1). This linear trend represents the major contact between Nicola Volcanic Sedimentary rocks and the Guichon Batholith, (See Figure 2) making this an excellent target for copper mineralization.

The first four holes have been staked with drilling expected to commence in mid-May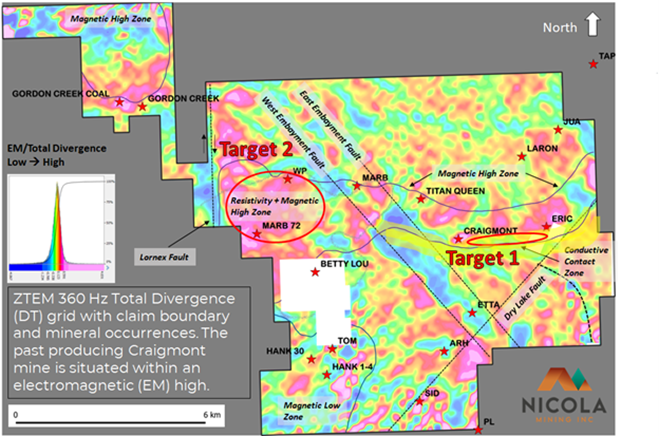 Figure 1: 2023 Key Exploration Targets from ZTEM Results
Target 2
Nicola will conduct additional diamond drilling on Marb 72 and WP Zone's, which are located proximal to the Lornex Fault. The Lornex Fault trends north-south towards Highland Valley Copper and is an important structural control for mineralization at the Lornex and Bethlehem deposits.
The Marb 72 and WP Zones appear to be copper porphyry targets. Historical trenching and soil sampling results from the February 22, 2023 news release identified porphyry style mineralization 5km west of the Craigmont open pit. These coincident multi element geochemical and ZTEM geophysical anomaly have never been drill tested.
Exploration activities may also include additional soil sampling, mapping and IP survey. The Company has signed an NDA with a global miner that will work with the Company during 2023 exploration program.
Figure 2: Geological formation of the New Craigmont Project
Further to the Company's News Release of March 30, 2023, the Company also announces that it has granted an aggregate of 200,000 stock options to a consultant for the purchase of up to 200,000 common shares of the Company pursuant to its Stock Option Plan. Each option is exercisable for a period of 5 years at a price of $0.15 per common share.
Qualified Person
Kevin Wells, P.Geo, a consulting geologist to the Company, is the independent qualified person as defined by National Instrument 43-101 – Standards of Disclosure for Mineral Projects for the technical disclosure contained in this news release.

About Nicola Mining
Nicola Mining Inc. is a junior mining company listed on the TSX Venture and Frankfurt Exchanges that maintains a 100% owned mill and tailings facility, located near Merritt, British Columbia. It has signed Mining and Milling Profit Share Agreements with high grade gold projects. Nicola's fully-permitted mill can process both gold and silver mill feed via gravity and flotation processes.
The Company owns 100% of the New Craigmont Project, a high-grade copper property, which covers an area of 10,913 hectares along the southern end of the Guichon Batholith and is adjacent to Teck Resources Ltd.'s Highland Valley Copper, Canada's largest copper mine. The Company also owns 100% of the Treasure Mountain Property, which is comprised of 51 mineral tenures, 21 legacy claims: 100 cell units, and five crown grants for a total of approximately 2,850 hectares.
On behalf of the Board of Directors
"Peter Espig" 
Peter Espig
CEO & Director
For additional information
Contact: Peter Espig
Phone: (778) 385-1213
Email: info@nicolamining.com
URL: www.nicolamining.com
Neither the TSX Venture Exchange nor its Regulation Services Provider (as that term is defined in the policies of the TSX Venture Exchange) accepts responsibility for the adequacy or accuracy of this release.