Nicola Mining Provides Update on Plans for the 2018 Exploration Programs at the New Craigmont Project, British Columbia
TSX.V: NIM
NEWS RELEASE
VANCOUVER, B.C., May 1, 2018 Nicola Mining Inc. (TSX.V: NIM), (the "Company" or "Nicola") is pleased to provide an update on the 2018 Exploration Plan at the Company's 100% owned New Craigmont Project, located near Merritt British Columbia.
Nicola's geological team is finalizing the 2018 Exploration Plan, which will be comprised of 4 drilling programs and a field sampling program:
Waste Piles: Reverse circulation drilling ("RC Drilling")
Promontory Hill: Diamond drilling
Craigmont Central: Diamond drilling
Craigmont West: Diamond drilling
Marb Zone: Mapping and channel sampling
The finalized plan and a schedule will be released shortly upon completion.
2018 Waste Dump RC Drilling
During Craigmont Mine's operating life between 1961 and 1982, an estimated 34 million tonnes of ore was mined at an average grade of approximately 1.28% copper.  Due to falling copper prices, the mine halted operations with the understanding that it could be reopened in the future.  The Bristow Report[1] highlights that the mine was closed leaving behind an estimated 54.1 million tonnes mineralization at 0.42% Cu surrounding the historical open pit deposit and 27,754 tonnes grading 1.79% Cu left in underground section.  The report also highlights a historic cut-off grade of 0.7%, which is above cut-off grades currently applied at mines in British Columbia that can be as low as 0.15%.
Waste rock from Craigmont Mine activities (not processed through the mill) has been stockpiled in terraces immediately adjacent to the historic pit and is inside the Company's active mine permit (M-68). The size of these stockpiles is estimated to be 80 to 90 million tonnes.
On September 26, 2017, the Company announced initial RC Drilling results that averaged 0.24% Cu on material located at the 3060 Portal waste pile. A lower cut-off grade is expected for this material given that mining costs have already been incurred.
A Notice of Deemed Authorization (NDA) has been approved for RC drilling of the waste stockpiles. The drilling program will test grade variability, stockpile geometry, rock density and other factors used for examining economic viability. A total of 115 drill holes for approximately 3,400 metres of drilling have been proposed based on cursory mapping and reconnaissance.
The program has been divided into 2 Phases. Phase 1 will comprise an initial pass of 20 drill holes (Figure 1) averaging 30m depth. The results of Phase 1 will then be reviewed to establish a scope of work for Phase 2 and the remaining 95 holes. The intent is to produce a Mineral Resource estimate later this year.
Nicola recently awarded JR Drilling, of Cranbrook, BC with the contract for RC drilling and expects the program to commence in May.
Figure 1. Phase 1: Waste Dump RC Drill Hole Locations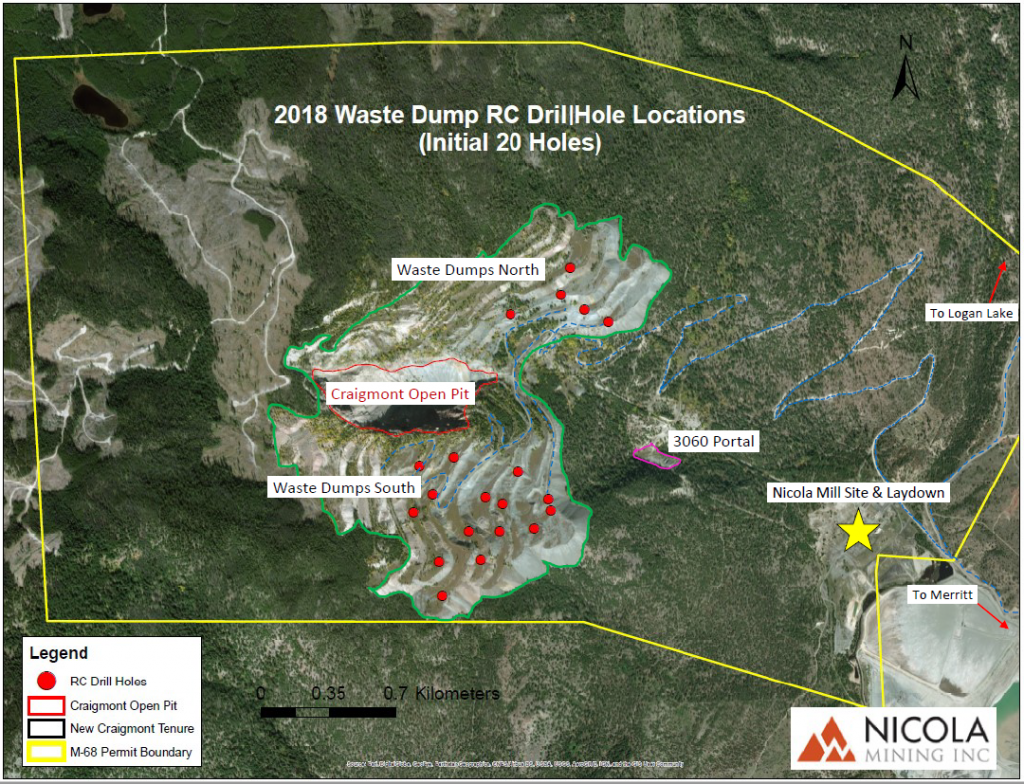 2018 Diamond Drilling
Nicola's geological staff have been onsite at the New Craigmont property preparing for this year's Diamond Drilling Program. With the extensive volume of historical data and multiple prospective targets, the Company decided to invest the time and effort into interpreting and modelling the data such that the drill targets are optimized using all available resources and information. Nicola's geological team is currently digitizing all available historical data to produce a 3D geological model for interpretation and drill hole targeting.
Promontory Hill Drilling
On July 24, 2017, Nicola released the results of an induced polarization geophysical survey ("IP Survey") in the Promontory Hill area.  Based on these results, Nicola applied for a Notice of Work ("NOW") in December 2017 requesting approval to drill-test this target.  The NOW is being processed and Nicola is following-up regularly on the status with the Ministry of Energy, Mines and Petroleum Resources.  Once the NOW Permit is approved, Nicola will finalize the drilling scope of work and drilling schedule.
Craigmont Central Drilling
A Notice of Deemed Authorization (NDA) has been approved for the Craigmont Central drilling program. This program is being designed to target mineralization in the alteration zone, proximal to the historical Craigmont Copper skarn orebody. Historical drill hole data is being reviewed and interpreted to determine optimal targets. A detailed scope of work will be released upon finalization, prior to execution of the program.
Craigmont West Drilling
Nicola is currently compiling the results from the recent drilling at Craigmont West with the objective of creating a 3D geological model. This model will be utilized for planning a follow-up drilling program later this year. Along with the Promontory Hill locations, a Notice of Work was submitted for additional drill holes at Craigmont West and is currently under review. There is also a valid permit in place to continue drilling on formerly approved locations.
Additional to the RC and Diamond Drilling Programs described above, the Company will continue to conduct exploration activities on other identified targets that may include geological mapping, outcrop sampling, and IP Surveys.
Scientific and Technical Information
All information of a scientific or technical nature contained in this document, including sampling, analytical and test data has been reviewed and approved by Kevin Wells, P. Geo., a consulting Geologist to the Company. Mr. Wells is a Qualified Person as defined by National Instrument 43-101 – Standards of Disclosure for Mineral Projects ("NI 43-101").
There are currently no mineral resource estimates on the New Craigmont Project (the "Property"). Historical "non-NI 43-101" resource calculations are recorded in internal memos and geological reports for Placer Development. An internal memo written by J.F. Bristow on October 30, 1985 to Craigmont Mines Ltd. reported a zone known as Body No. 3 containing a historic estimate of 1,290,000 tons (1,170,268 metric tonnes) of copper grading 1.53% copper. * This estimate assumes a 0.7% copper cut-off and a 20-foot mining width between drill sections 6565E and 8015E. The material in Body No. 3 contains mineralization primarily in silicate-rich rocks.
Additionally, J.F. Bristow reported in an internal memo on July 22, 1985 to Craigmont Mines Ltd., a rough calculation of +60,000,000 pounds (1.6 million short tons or 1.45 metric tonnes) of +1.5% copper from an original ore estimate of 27,754,000 short tons (25,178,005 metric tonnes) of copper grading 1.79% copper left behind in the sub-level cave. The material is from the previously mined out No.1 Body and No.2 Body.
It should be noted that these historical estimates do not meet the requirements needed to conform to NI 43-101 standards. The Company notes that an independent QP has not done sufficient work to verify and classify the historical estimates as current mineral resources and is therefore not treating the historical estimates as current mineral resources or mineral reserves. For further details on the Thule copper property, see the technical report entitled "TECHNICAL REPORT on the THULE COPPER – IRON PROPERTY, Southern British Columbia, Canada", filed on May 8, 2013 on Sedar at www.sedar.com.
On behalf of the Board of Directors
"Peter Espig"
Peter Espig
CEO & Director
For additional information
Contact: Peter Espig
Phone: (778) 385-1213
Email: info@nicolamining.com
Neither the TSX Venture Exchange nor its Regulation Services Provider (as that term is defined in the policies of the TSX Venture Exchange) accepts responsibility for the adequacy or accuracy of this release.
[1] Bristow Report: dated July 22, 1985 can be found on the Company's technical report entitled "Technical Report on the Thule Copper-Iron Property that was filed under the Company's profile on www.sedar.com on May 8, 2013