Merritt Mill & Tailings Facility
Situated in the heart of the Thompson-Okanagan mining district, the Merritt mill and tailings site consists of approximately 980 acres of fee simple land. The mill is a 200 tonne per day crushing, grinding and flotation mill, permitted to conduct custom milling of ore, and is located 10 kilometers northwest of Merritt, BC.
Nicola's Merritt Mill is the only facility permitted to accept third party gold and silver mill feed from throughout the Province of British Columbia.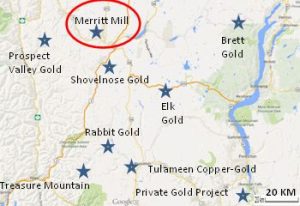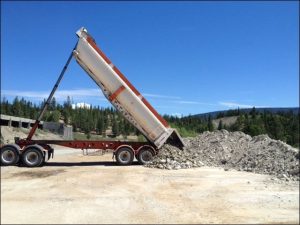 The mill is constructed on freehold land, which the Company purchased in 2011 for $8.0 MM.  The land is I-3 Industrial zoned, and the mill and infrastructure were constructed in 2012 for approximately $22.0 MM.
In addition, the Company invested $1.8 MM to construct a fully lined tailings facility, thereby minimizing the operational impact.
Since 2021, the mill has undergone extensive upgrades and modifications, including the installation of a gravity jig separation system that allows the mill to separate free gold from mill feed, as well as a tabling system that allows the mill to further separate fine gold from gold concentrate after floatation.  It is capable of producing free gold concentrate, gold floatation concentrate, and silver concentrate. The large mill building allows scalability for additional flotation tanks and gold screening units.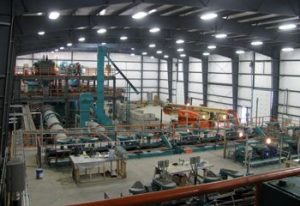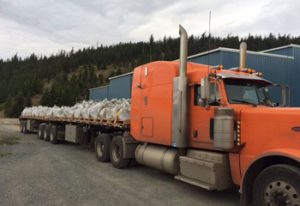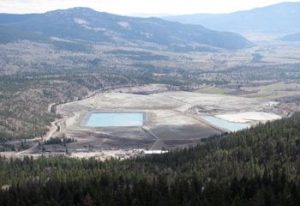 The Company has entered into several Milling and Profit Share Agreements that include Blue Lagoon Resources Inc. and Osisko Development Corporation, the latter which was announced on January 9, 2023.  Nicola is able to sell gold and silver concentrate globally, through its purchase contract with Ocean Partners UK Limited, a company that provides global trading services to miners, smelters, and refiners.
The Company also maintains a 75% economic interest in the Dominion Creek Property, which is located 43 kilometers northeast of the Town of Wells and about 110 kilometers east-southeast of Prince George, pursuant to the Mineral Purchase Agreement it entered into with High Range Exploration Ltd.  A 10,000 tonne bulk sample permit to extract material and ship to the Merritt mill has been submitted to the Ministry of Energy, Mines and Low Carbon Innovation.
In addition to operating BC's only mill permitted to accept province-wide mill feed, the Company prides itself on environmental responsibilities and First Nations relationships,  On March 14, 2022, the Company announced that it has entered into a Rock and Gravel Extraction and Preferential Engagement Agreement with Lower Nicola Site Services Ltd., a company which is a partnership between the Lower Nicola Indian Band Development Corporation and Infracon Construction Inc.