The Merritt Mill Property is host to an active run gravel pit that has a tolling agreement in place which is located on District Lot 4234 – Thompson Nicola Regional District – Parcel 005 | 729 | 289. The operation is permitted for up to approx. 60,000 tonnes per year, and the active run gravel pit is operated by the Infracon – Lower Nicola Site Services Limited Partnership.
We encourage parties interested in learning about utilizing material from the Nicola Quarry, to review our news release of May 2, 2022. You will also find links to affiliated websites with more in-depth information for your perusal. As noted by our CEO Peter Espig below. 
NICOLA MINING RECEIVES ROCK QUARRY PERMIT AND HAS COMMENCED SUPPLYING THE MINISTRY OF TRANSPORT FOR HIGHWAY INFRASTRUCTURE REPAIR
"The opportunity to work with LNSS on our rock quarry represents much more than a new revenue stream; it highlights our community relations initiatives and allows communities to benefit from our efforts." The material supplied from the Company's quarry helped aid the Ministry of Transport and Infrastructure (MOTI) in its repairing of the Trans-Canada Highway, Highway 99, Highway 7, Highway 3, Highway 5, and Highway 8, which were damaged by the flooding events that occurred in November of 2021. Interior Region Flood Repairs.
Merritt Herald | May 9, 2022 | Izaiah Reyes | Trending, Indigenous, News, Community
Nicola Mining to assist in Lower Nicola infrastructure repairs
NICOLA MINES / CRAIGMONT QUARRY PROJECT OPERATORS
Click on the following links to learn more about Lower Nicola Site Services (LNSS), a partnership with Infracon Construction.
PROJECT SNAPSHOT
"Lower Nicola Site Services (LNSS), a partnership between Infracon and the Lower Nicola Indian Band Corp., established production at Nicola Mines Quarry & Gravel Pit in May 2022. The quarry supplies riprap, aggregates, concrete rock and sand to local companies. Our materials are used on projects throughout the local area, including on the Trans Mountain Pipeline Expansion and for the DFO." Learn more about the quarry here.
Gravel Pit Operation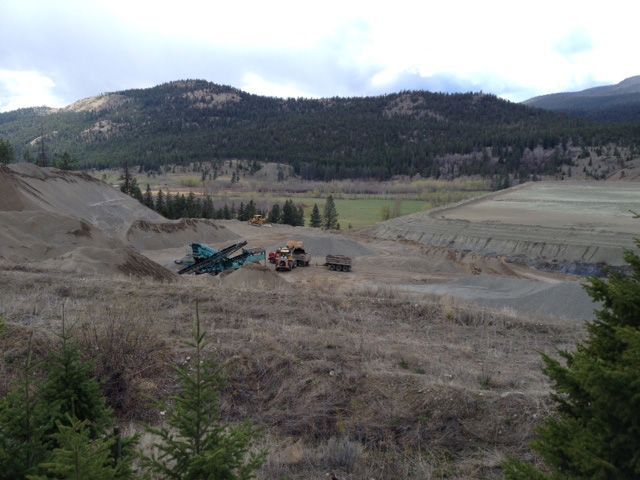 Gravel Resource Property